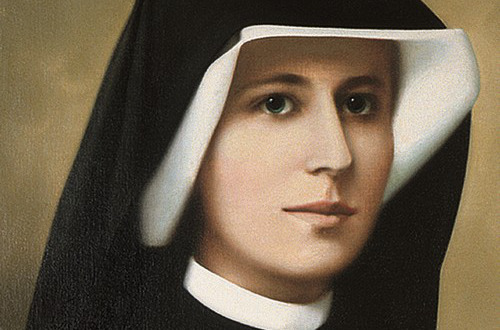 Helena Kowalska was born on August 25th 1905, in a small village in Poland. She was the third child in a family of ten children. Her parents were God-loving, poor farmers.
While she was very young Helena had an inclination for prayer. She made her First Communion at the age of 9 and was fully aware that Jesus, true God and true Man, who died and rose again from the dead, was present in the Sacred Host. At the age of 7, she heard a call from God to consecrate her life to Him. Her parents refused her permission to enter a convent so she tried to suppress her vocation for several years. Further to a vision of the suffering Christ who was calling her, she left her family.
She entered the Congregation of the Sisters of Our Lady on Mercy on the August 1st 1925, at the age of 20 and was given the name Sister Mary Faustina. She was cook, gardener and doorkeeper in several convents of the Congregation particularly in Warsaw, Krakow, Plock and Vilnius. Sister Mary Faustina had a very rich, mystical life. She received many extraordinary graces (visions, revelations, the gift of prophecy), but nothing of these transpired in her simple and devoted life as a religious. Jesus told Sister Faustina that He wanted the whole world to know His Mercy, that she was the secretary of His Mercy, the apostle of His Mercy for the entire world.
At the request of her spiritual director, Blessed Father Michael Sopocko, she wrote The Little Diary in which she stated the demands required by the Lord.
« Humanity will not be at peace if it does not turn with confidence to Divine Mercy »
(The Diary § 132).
« My Daughter, say that I am Love and Mercy in person »
(Little Diary § 687).
« I want the whole world to know My Mercy »
(Little Diary § 687).
« I would like to cry out to the whole world : love God for He is good and great is His Mercy »
(Little Diary § 1372).
« I am sending you today, towards all humanity with my Mercy … »
(Little Diary § 1588)
The Lord offers the whole world the means and the prayers in order to love Divine Mercy (picture of the Risen Christ, feast of the Divine Mercy (Mercy Sunday), Mercy Rosary, Holy hour of Mercy, Novena to Divine Mercy). He said to St Faustina, above all, that people must have confidence in God and love one another.
Sister Mary Faustine died in Krakow on October 5th 1938 from tuberculosis aged almost 33 years. The first Sunday after Easter, April 18th 1993, in St Peter's Square in Rome, Pope John Paul II beatified Sister Faustina. The following day, during the general audience he declared « God has spoken to us through Blessed Sister Faustina Kowalska's rich spiritual life. She has left the world a great message of Divine Mercy, and also an invitation to trust the Creator entirely… »
Pope John Paul II canonised St Faustina on April 20th 2000 in Rome.
Her relics are laid in the Sanctuary of Divine Mercy in Krakow – Lagiewniki.