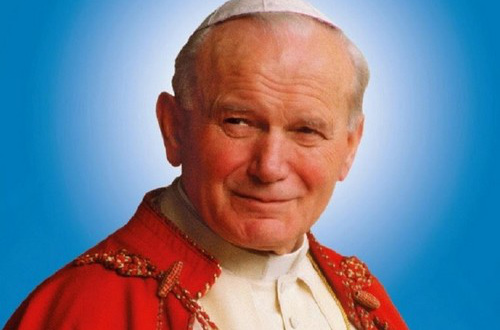 Karol Jozef Wojtyla was born May 18th 1920, at Wadowice, a small town 50km from Krakow, in Poland. He was baptised on June 20th 1920 in the church in Wadowice, by Father Francis Zak, made his First Communion at the age of 9 and was Confirmed at 18.
Karol decided to say « yes » to the Lord's call and became a priest. A few years later, Pope Paul VI requested him to become the Archbishop of Krakow and made him Cardinal. Cardinal Karol Wojtyla participated in the Vatican II Council which was an important event for the Catholic Church. On October 16th 1978, he was elected Pope by the Cardinals. He chose the name John Paul II.
Divine Mercy was the leitmotiv of his pontificate. If St Faustina were to be the secretary of Divine Mercy, St John Paul II, is its apostle. In 1980, he wrote the encyclical God rich in Mercy. He is at the source of the development of devotion to Divine Mercy according to Christ's wishes in His apparitions to Sr Faustina.
He filed the cause for the beatification of Sr Faustina in 1965, when he was the bishop of Krakow. He beatified her on April 30th 1993, then he canonised her on April 30th 2000. (First canonisation of the year 2000 and the new millennium). On this same Sunday, April 30 2000, Pope John Paul II answers Jesus' call by making the Sunday after Easter « Mercy Sunday » for the Universal Church (the Gospel of this Sunday that in which Jesus invites Thomas to believe in Him).
Pope John Paul II was a man of Mercy, notwithstanding truth and justice, he forgave his aggressor who tried to kill him May 13th 1981, in St Peter's square in Rome. Throughout all his apostolic commitments his closeness to those tried by hardship, illness or handicap, to the poor of the shantytowns showed his deep compassion for all kinds of suffering. His prayer « Act of abandon to Divine Mercy » is witness to his Love and his confidence in Jesus' Mercy.
Pope John Paul II died in the Vatican on April 2nd 2005 at 9.37p.m. the eve of Mercy Sunday. Three million people attendent his burial in Rome on April 8th 2005.
He was beatified on May 1st 2011 and canonised by Pope Francis in Rome, on April 27th 20&4 at the same time as Pope John XXIII.