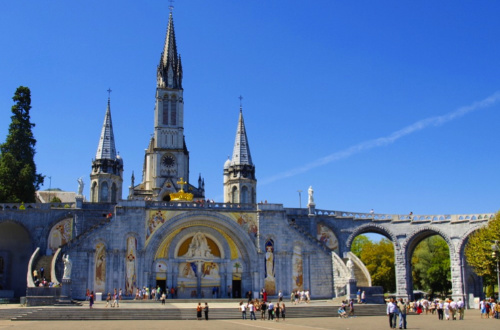 The sanctuary of our Lady of Lourdes (Department 65), in the Pyrenees is the biggest French pilgrimage center.
Around five million pilgrims from all over the world come to pray to the Blessed Virgin at the grotto in Lourdes.
The Blessed Virgin appeared to Bernadette who was 14 years of age on February 11th 1858, followed by seven other apparitions. In response to Bernadette's question The Blessed Virgin told Bernadette her name : « I am the Immaculate Conception », that is, without sin. During one of the apparitions, The Blessed Virgin asked Bernadette to dig a hole in the ground to find water. She said : « Go to the fountain drink and wash yourself » and she asked to pray for sinners.
Lourdes is a place of Mercy where many sick people and pilgrims, individually or in groups seek comfort, strength, peace and joy and healing. Prayers at the grotto, the experience ot the « baths », the encounter with the sick, the celebrations of the Holy Eucharist often international, the Rosary in torchlight processions, the multiple occasions for exchanges among pilgrims, the possibility to have a dialogue with a priest and/or receive the sacrament of Reconciliation are precious moments where each and everyone can experience that God has a heart full of Mercy.